The X-Change mask is unique in that it allows you to take off and wash or replace your fencing mask bib in seconds. The bib is thicker than traditional fencing bibs and the Contour Plus system keeps your mask locked securely onto your head even during close-quarter fencing and grappling.
More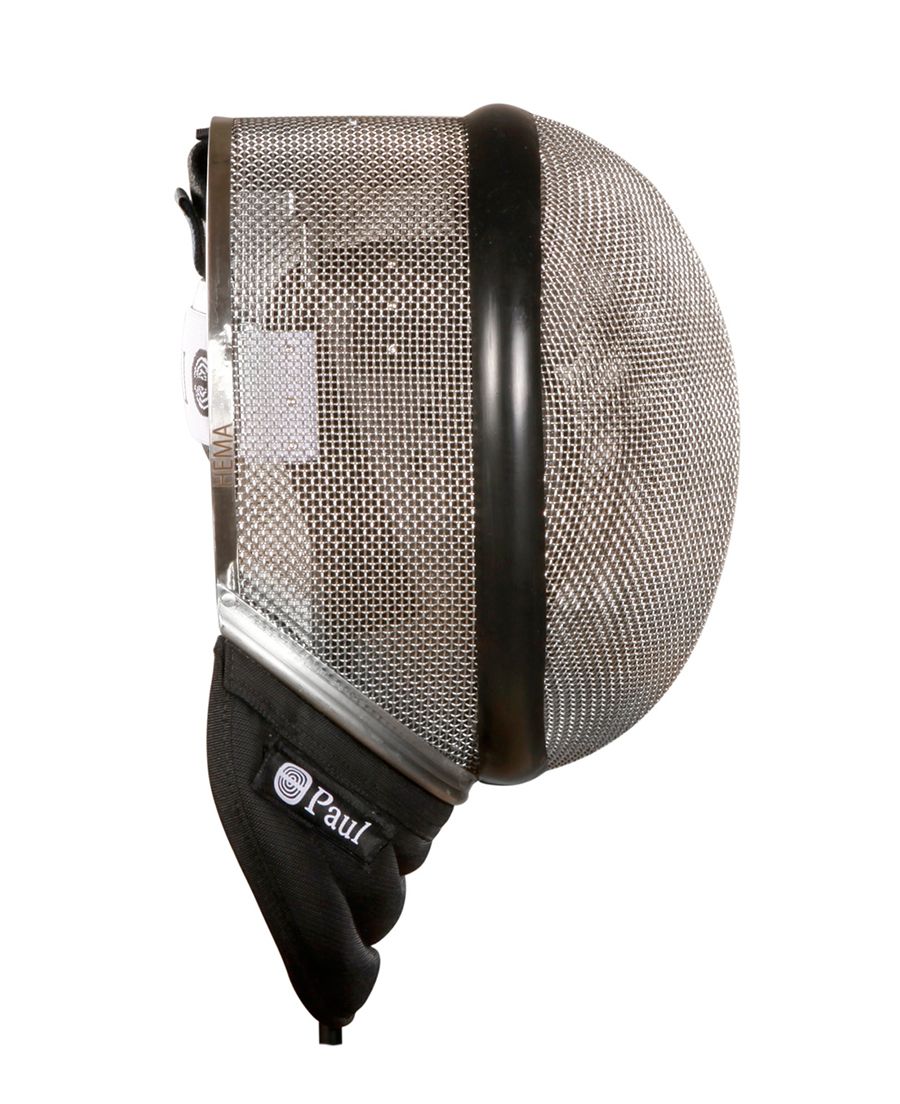 TITAN X-CHANGE HEMA MASK
The forces generated by HEMA weapons and the contact nature of fencing demand more than a regular sport fencing mask. The Titan mask uses a stainless steel mesh that is 20% stronger than an FIE mask, the bib is thicker and larger and the Contour Plus system keeps your mask locked securely onto your head even during close-quarter fencing and grappling.
This mask was designed and tested by HEMA fencers from the ground up and features all the advantages of Leon Paul X-Change masks like replaceable padding and bib for Lightweight and hygienic upkeep.
"Please note - all masks regardless of their construction will deteriorate and dent with use. We advise using a mask outer pad to boost the mask's longevity and increase protection."
IMPORTANT These masks are made with a thicker mesh than standard fencing masks. This mesh is not hardened to the same level as FIE masks and this is a deliberate design decision. The harder a steel the more likely to fracture it is and it is these fractures that cause broken wires and can lead to the most serious injuries. A slightly softer finish on steel makes it much tougher and less likely to break. This means that it may dent a bit more easily than a very hard steel but it is ultimately much safer. You can not expect to hit this mask with full force using an edged weapon and not get dents to the mesh. These dents can be easily hammered out leaving the mask perfectly fine for use. If you are not comfortable with this design decision or the occasional dent then this is not the mask for you and you should look at a standard FIE mask. The mesh of the HEMA is tested to EN13567 (FIE) specifications and passes both the high speed and low-speed impact tests.

OPTIONAL UPGRADE: High-Impact padding kit
The latest Leon Paul addition for HEMA fencing - purposefully designed by HEMA fencers High-Impact padding attached by a top fixing strap with VELCRO® Brand fastenings to the interior of the mesh to significantly boost the mask's protection. The kit consists of four padding pieces - for the top, front and sides of the head.
Please note that some fencers would need a size-up of their usual mask size to fit the High-Impact padding.
Only compatible with all X-Change masks.


WARNING

HEMA by virtue of being a direct contact combat sport is by its nature potentially dangerous. HEMA protective clothing is intended to as far as possible reduce the likelihood and severity of injuries however it does not by any means to ensure the safety of athletes wearing protective HEMA clothing.

It should be understood that when using this clothing there is a risk of injury or death. No practical clothing is capable of guaranteeing safety and Leon Paul accepts no responsibility for injury sustained whilst using this equipment however it is sustained.

There are no current European standards for the manufacture of HEMA protective clothing so Leon Paul has sought expert advice for the design of their range of HEMA products. They do not, however, conform to any specific set of European standards for personal protective equipment.

Protective clothing must not be changed or manipulated. In particular, seems must not be opened or further parts are added or taken away. Care instructions must be respected as non-compliance with these instructions can reduce the level of protection of this garment. Carefully inspect protective clothing for HEMA at regular intervals to make sure, that no mechanical defects (like abrasion, holes, broken seams, tears, scratches) have occurred. If this has happened, the garment should no longer be used. If you are concerned about the safety of equipment do not use it.
Wash & Care Instructions
Maintenance
It is important to regularly remove and refit the bib, to ensure that it does not become locked in place. All fabric parts of the masks can be removed and machine washed.
IMPORTANT: Please only use colour-safe detergents, free of bleach, optic whitening or oxidising agents, to wash fabric parts.